Link your bank account to receive payouts.
Before you start creating your semester, it is important that you link your bank account.
Please complete the following steps:
1. Click on My Settings or use the settings icon in the top bar.

2. Enter your information:
Set your profile image. Click on Set Profile Picture > Upload Files >Select Files > Choose

the image from your computer, and once it's done, click on Use this media.
Fill in the required information: First Name, Last Name, Email address, Phone number and Time zone.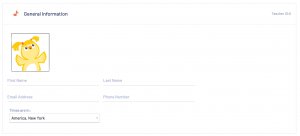 3. Fill in your Address.


4. Add your payment details. Here is where you'll receive your earnings. 
Receive your first payout until 7–14 days after receiving your first successful payment. The first payout usually takes a little longer in order to establish your account. For US accounts, the following payouts of your available account balance are made daily and contain payments processed two business days prior (this is how long it takes for your pending account balance to become available). For other countries, it may take up to 7 business days.
For US accounts: (please fill in your social security number).
For Canada accounts:


That's it! Once all the information is completed, you are ready to start building your schedules.