Link your bank account to receive payouts.
Before you start creating your semester, it is important that you link your bank account.
Please complete the following steps:
1. Click on My Settings or use the settings icon in the top bar.

2. Enter your information:
Fill in the required information: First Name, Last Name, Email address, Phone number and Time zone.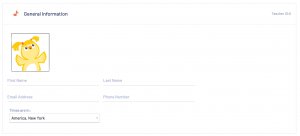 3. Write your bio:
This text will be displayed in your classes.

4. Fill in your Address.


5. Add your payment details. Here is where you'll receive your earnings. 
Receive your first payout until 7–14 days after receiving your first successful payment. The first payout usually takes a little longer in order to establish your account. For US accounts, the following payouts of your available account balance are made daily and contain payments processed two business days prior (this is how long it takes for your pending account balance to become available). For other countries, it may take up to 7 business days.
In order to confirm your bank account was linked to our system correctly, you will receive $.50 cents upon the creation of your site.
For US accounts, please provide Routing Number and Account Holder Name.

For Canada accounts, please provide Transit Number and Institution Number.


For Mexican accounts, please provide your account Clabe.




*For security, you will be asked to double enter some of your account numbers.
Payment processing services for business owners on Bilingual Birdies are provided by Stripe. As a condition of Bilingual Birdies enabling payment processing services through Stripe, you agree to provide Bilingual Birdies accurate and complete information about you and your business, and you authorize Bilingual Birdies to share it with Stripe to setup your account.
You may receive emails from Stripe in any of the following cases:
– During the process of setting up your account and validating your email.
– Request for personal information, such as a selfie and ID.
– In case one of your clients does not recognize the payment.
– Link your bank account to Stripe.
IMPORTANT: If you receive an email from Stripe for any of the above cases, or any other case, please forward it immediately to info@bilingualbirdies.com so that we can help you meet the request.
That's it! Once all the information is completed, you are ready to start building your schedules.